2 Homerun Pump (20% OFF + FREE CREATINE + FREE SHAKER + FREE RALLY GYM BAG))
Regular price
$109.98
Save $-109.98
---

Looking for a product that will make you look and feel like your muscles are busting out of your shirt your whole gym session? Or even something that will bring out your vascularity and give you more endurance throughout your workouts? Then HOMERUN PUMP is suited for you! It's loaded with tons of natural and great ingredients to get you through your workouts with intensity every step of the way. Not only will it help you with strength and endurance but it helps keep you dehydrated as well. This is truly the most efficient nitric oxide enhancer on the market today.
One scoop is all you need to fuel your workout. We promise you that you will feel the pump not only when you step into the gym but once you step out as well. You will not be dissappointed!
Homerun Pump has incredible ingredients that give you strength, endurance, and focus here are some key ingredients below:
L- Citrulline - Boosts nitric oxide production in the body which improves bloodflow by helping your arteries relax.
Betaine Anhydrous- A chemical that occurs naturally in the body can be found in certain foods. Helps by improving athletic performance.
Glycerpump - Sends extra fluids into the muscles to improve endurance, hydration and performance in the gym.
Nitrosigine - A stimulant free pre workout ingredient that gives significant increases in energy over time. Helps fuel your muscles.
Agmatine Sulfate - Helps increase more nitric oxide production which in turn leads to more blood flow and more massive pumps.
Beet Root Extract - Helps with levels of triglycerides and in turn will improve athletic performance.
Kre-Alkaline - Buffered version of creatine with less water retention than creatine monohydrate. Helps with strength and endurance.
Lions Mane Extract - A natural mushroom that helps with razor sharp focus fueling the mind body muscle connection.
Alpha GPC - Used for focus and has shown to increase thinking skills.
Astragin - 100% natural compound that increases absorption rate of a wide range of nutrients from amino acids to creatine etc.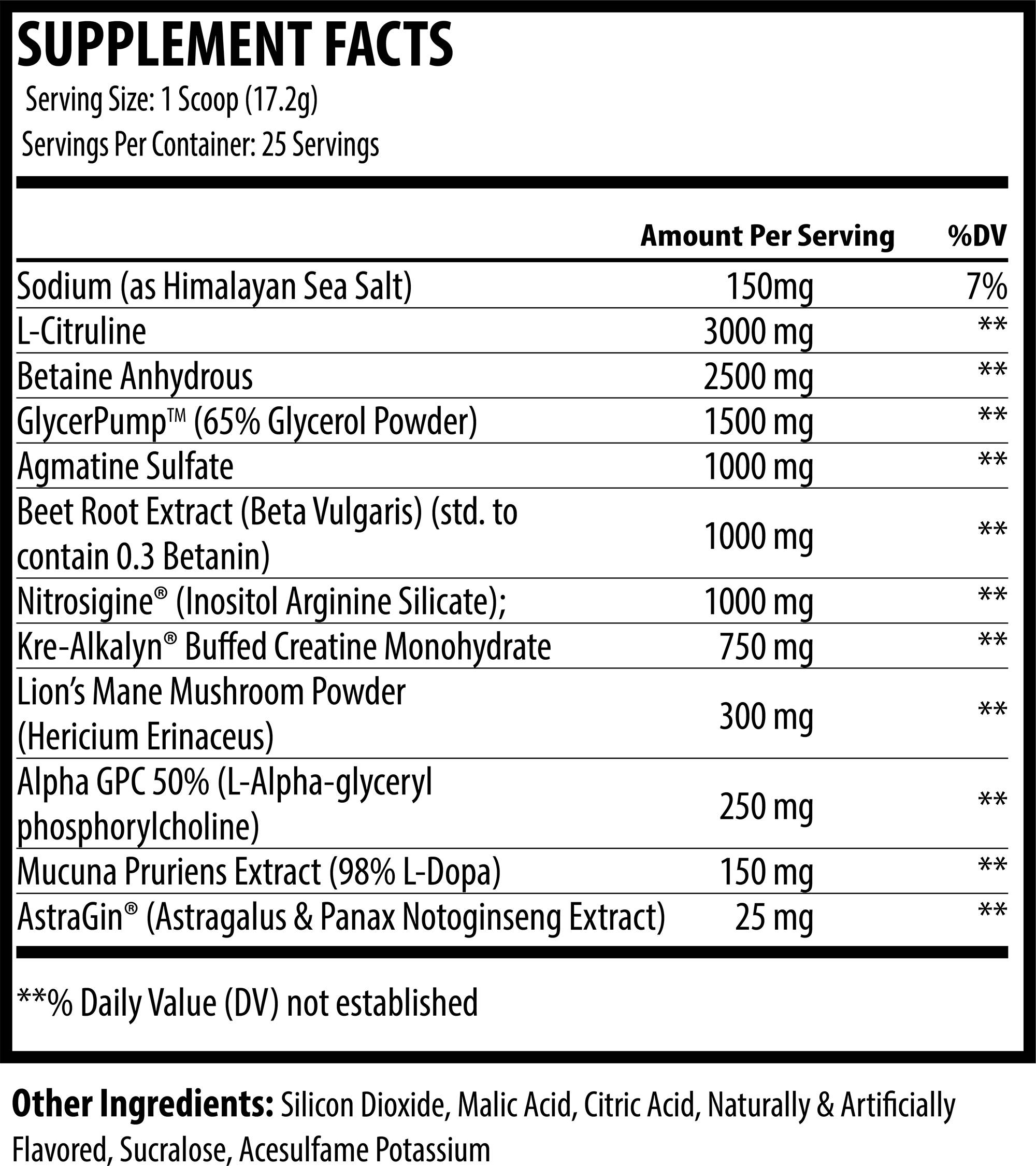 Standard deliveries will take 3-5 business days for delivery after order has been processed.

Orders placed after 4PM EST will be processed the following business day.

Orders placed after 4PM EST on Fridays, will be processed the following Monday(excluding holidays)

Business days are MON-FRI, excluding holidays.

We do not process, ship or deliver orders on Saturdays or Sundays.

Weekend delivery is not available

A FEW OF OUR PUMPED CUSTOMERS!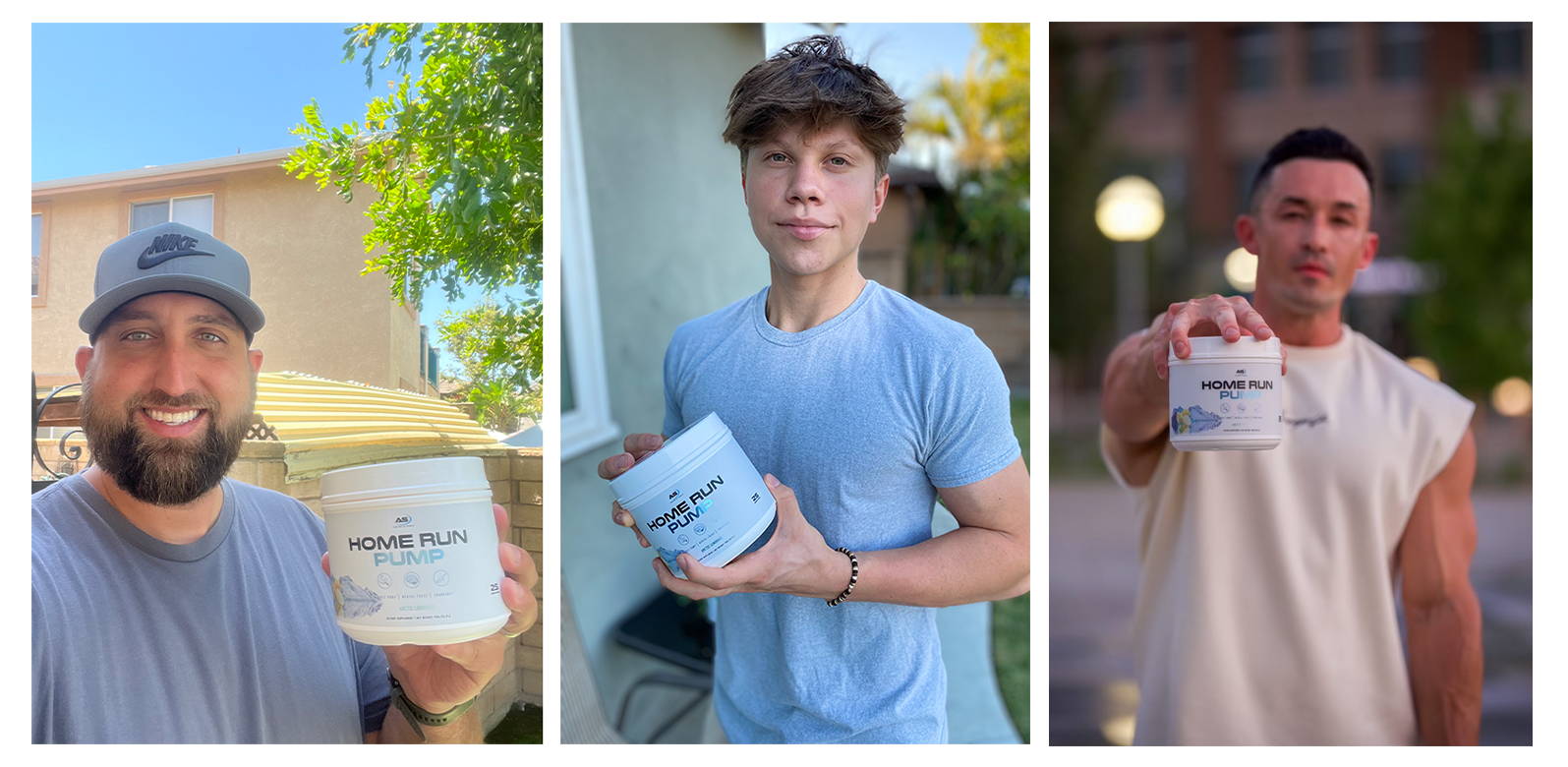 WHAT MAKES HOMERUN PUMP DIFFERENT? (LEARN MORE

HOMERUN PUMP was formulated very thoughtfully and with intent to get you the most out of your workouts. That is why it does not contain caffeine due to the fact that caffeine constricts your blood vessels and doesn't allow maximum blood flow for a better pump and strength push in the gym. Instead, we added nootropic ingredients to get you the same energetic effect without constricting your blood vessels.
The whole purpose of HOMERUN PUMP is to get you maximum blood flow endurance and strength while having intense focus so you can create that mind body and muscle connection for optimal performance and results! That's why we added clinical dosages that work and are not underdosed of all of the main ingredients to make HOMERUN PUMP a quality product. In doing so it will give you the optimal push for pump strength and endurance.
PUMP + ENDURANCE (LEARN MORE)

These ingredients will take your workout and pump to the next level!
L-Citrulline

Betaine Anhydrous

Glycerpump

Agmatine Sulfate

Beet Root Extract
Strength + Athletic Performance (LEARN MORE)
In order to give you maximum strength and athletic performance in the gym, we added these ingredients below:
Kre Alkaline

Agmatine Sulfate

Beet Root extract

Glycerpump
Focus + Nootropic (learn more)
To give you a mind body and muscle connection for better results and workouts we included these top ingredients.
Lions Mane Mushroom Extract

Alpha GPC

Mucuna Pruriens
Overall athletic performance Hydration + absorption (learn more)

Astragin

Himalayan pink salt

We are so confident in our products that if you are not satisfied with it we will refund you 100% of your money back ( NOT including shipping). YES THAT'S RIGHT 100%! All you have to do is send the bottle back even if its EMPTY within 2 YEARS of purchase. NO RISK! NO HASSLE!
Does Home Run pump contain stimulants or caffeine and can I take it at night?

No, Homerun Pump contains no stimulants or caffeine it will not keep you up at night.
Can I take homerun pump year round or do I need to take a break?

We recommend taking a 2-4 week break from Homerun Pump after 3 months of use so your body doesn't get used to the effects of this product.
Can I stack Home Run Pump with other products or pre workouts?

Although, it is not needed to stack Homerun Pump with other pre workouts, it is ok to do so if you really want to add caffeine. For people who really want to add caffeine to Homerun Pump we recommend stacking with our Amp Matrix for a great combo.
Q: Who can take Home run pump?

Anyone over the age of 18 can take Homerun Pump men and women. If you have any health issues or are pregnant we recommend consulting with your medical doctor.
Can I take Homerun pump even if i dont go to the gym to workout?

We don't recommend taking Homerun Pump unless you are going to workout, it would defeat the purpose of what the product is made for which is: pump, strength, and optimal athletic performance.